Our Verdict ★★★★☆
Key Takeaways: The Ryder bag has most of the features you'd want and is pretty good overall. It may be worthwhile paying a bit more to get something higher quality, but with our discount, it's probably one of the top options you can buy for less than $200.
Who Should Buy: This bag could be a solid option for someone just getting started with golf who carries between 10 and 14 clubs. It's also something I'd recommend to someone who doesn't want to spend a bunch of money on a premium bag.
Pros
+ Comfortable to carry
+ Has almost all the features
+ Plenty of storage
+ Insulated drink pocket
+ Can be used on carts
Cons
– No tee holder (like the other SG bags)
– Weight is middle of the range
– Price is a little high (without discount)
Discount: Use Code "OBG15" For 15% Off At SundayGolf.com
We earn a commission if you click this link and make a purchase, at no additional cost to you. This does not impact our rating.
Our Testing Process: Our goal is to help you find the right product. We spend a lot of time testing products so you don't have to. Learn more about how we test.
If you're in the market for a new golf bag, you have a lot of options to pick from. My two most recent bags have been from Sunday Golf, who up until this point only carried smaller bags. That's no longer the case, and in this post, we'll be reviewing their full-sized Ryder bag.
Ryder Bag Video Review
In this video, I'll be unboxing the Ryder bag and giving some initial first impressions. I'll be covering the different features, what I liked and didn't like, and who this bag might be right for.
Is This Your Ordinary Sunday Bag?
When most people think of a Sunday bag they probably think about a small bag you'd see on a pitch and putt course or something a kid might carry around. While the brand Sunday Golf does have smaller bags, their Ryder model is full-sized.
It really depends on what type of courses you'll be playing and how many clubs you have. If you only have five or six clubs then there's really no point in having a large bag.
I normally carry 10 clubs. Sunday Golf has two bags that I'd classify as a true Sunday bag, so they weren't for me. I was able to try out the El Camino (up to 10 clubs) and the Ryder (up to 14 clubs).
So, if you're wondering whether or not this has enough space for all your stuff, I'd say you should be good. I don't know what else you'd bring to the course other than your clubs, balls, rangefinder, food, and a jacket.
The Features Of The Ryder Bag
Dual strap: Pretty much all full-sized carry bags will come with dual straps. If they don't, you probably don't want it. I had a cart bag previously and it was a bit of a hassle when I had to walk par 3 courses with my friends just getting started with golf.
5-way top: The El Camino bag I had before the Ryder came with a 4-way top (all full-length), which was pretty decent. The Ryder bag has a 5 way top that seems to be a bit better for my setup. It just adds an additional compartment that separates clubs to make it easier to take them out and put them in.
Accessory pocket: This is the pocket I use to store all of my stuff. Whether that's my spare glove, ball marker, divot tool, and a couple of other things. It's a pretty good size and could easily fit a bunch more (I just don't carry much on the course).
Mesh pocket: I don't exactly know what this long and narrow compartment is for but I just use it to store my water bottle. I don't know what else you could use it for, but I'm sure you could find something to put in it.
Ball & tee pocket: The front pocket is where I store my balls and tees. The El Camino bag had a mesh pocket inside that kept the tees and balls separate, but this doesn't have that feature. I would prefer to keep them separate since it makes it easier to get the tees out.
Insulated drink pocket: If you like to have a few beverages when you're out on the course, an insulated pocket is a must-have. The Ryder comes with a pocket that can fit three normal-size cans.
Smell-proof pocket: This is another long and narrow compartment that you could use for something. Again, I don't know what it was designed for specifically (cigars?), but it's there if you need it.
Valuables pocket: This pocket is lined with velour and is used to store your phone, wallet, and keys. It's pretty small so you wouldn't be able to fit much more in it.
Jacket pocket: This is the biggest pocket on the bag and is where I store my jacket and driver head cover. Rather than having to take the cover off and put it back on, I just keep it in there and there's plenty of room.
Rangefinder pocket: This pocket is designed for your rangefinder but can also be used for other things. It doesn't have zippers so it's an easy-access pocket.
Velcro glove holder: Rather than taking your glove off and tossing it in your pocket, there's a velcro holder you can use. I like it because it lets my glove dry a bit when it's wet out or I'm sweating a bit.
Towel loop: Everyone should have a towel with them to keep their clubs clean and hands dry. I don't want to see you walking around the course with mud caked onto your clubs. Wipe them down after you hit them.
Umbrella holder: I don't use an umbrella myself, but you might.
Pass-through cart strap: I use a push cart during most of my rounds. The El Camino bag didn't come with this and it occasionally would twist on the cart. I can now put the strap directly through the bag, which keeps it in place much better.
The Quality Of The Ryder Bag
I already had experience with the El Camino by Sunday Golf as well as a newer Cobra bag, so I had something to compare to. My previous bag had a few minor issues that I was able to fix myself, but the Ryder bag seems to be better.
The quality of the material seems to be pretty decent, but it really depends on what you're comparing it to. It's made from a nylon material that feels better than some of the cheaper bags I've seen, but if you're used to a premium bag, it will be a step-down.
The zippers also seem to be good, they're just your standard string with a plastic tip. That said, I really tried to pull on them to see if there was any sign of wear and breakage. I haven't had the bag for too long, but I've had no issues myself.
The final thing I wanted to look at was the legs of the bag. It's important that the legs are wide enough to create a stable base and are built well enough to fold in and out with no issues. After using it for a while, it'd be nice if it were slightly more sturdy, but it was pretty good.
There were a few times when I hit my shot, I picked up the bag, and one of the legs didn't fully close. It hit the back of my leg a few times, but I just used my hand to close it and it seemed to stay in place.
Overall, the quality is pretty good. Compared to a newer Coba bag I have, the material on the Ryder feels better, the zippers are pretty much the same, and the leg system wasn't quite as good. Again, we'll update things if that changes.
How Did The Ryder Bag Perform?
The features and quality of the bag are one thing, but what really matters is how it performs on the course. What I'm talking about is how comfortable the bag is to carry, how well the clubs went in and out, and if I noticed any small issues along the way.
In terms of comfort, I wouldn't say the Ryder is as comfortable as the El Camino, simply because it's bigger and heavier. Compared to other full-sized bags, it was essentially the same. I didn't have to adjust anything, it just came out of the box and went on my back balanced.
I normally carry 10 clubs with midsized grips. The El Camino bag fits them all no problem, but it wasn't always the smoothest getting the clubs back in the bag. Since the Ryder is bigger, I didn't find that this was much of an issue.
Overall, the bag performed pretty well. Compared to my Cobra bag, everything was very similar except for the amount of padding in the strap. The Ryder had a little bit more, which was a plus.
Ryder vs El Camino
The main difference is that the Ryder bag is full-sized and fits up to 14 clubs while the El Camino holds up to 10 clubs. Both have a good amount of storage and are comfortable enough to carry, while they both can be used on carts.
If you're trying to decide between the two, ask yourself these questions:
How many clubs do I have?
How many clubs do I plan on having?
If you have 10 or fewer clubs, either bag could work for you. If you have more than 10 clubs, the Ryder bag will be a much better fit for you.
Also, you need to think about whether or not you'll add clubs in the future. The El Camino might work for you now, but will you get more clubs in the future? If yes, you might want to consider the Ryder.
Even with the El Camino, I've heard from people who stuffed more than 10 clubs in it. I have midsized grips, so it wasn't ideal to add more clubs. Either way, it's something to consider. You can read our El Camino review if you'd like more details.
What I Don't Like About The Ryder Bag
I've been able to try a number of different bags over the years, some have been good and some have been just fine. The main thing comes down to whether or not the bag will last for years.
After testing things out for a number of rounds, I've been pretty happy with the quality and performance of the Ryder. That said, it doesn't mean it's the perfect bag because there are some improvements to make.
One thing right now is that there really isn't a good place to put tees. The El Camino had a specific spot to store 8-10 tees, but the Ryder doesn't have that feature.
If you use the accessory pocket for random stuff and the jacket pocket for clothing, you'll have to have your balls and tees in the same pocket (unless you don't use the cooler or smell-proof pocket).
I think the leg system could be a bit more sturdy as well. I didn't find it to be a huge deal, but it did hit my leg a few times when walking with the bag.
Is The Ryder Bag Right For You?
After everything we've talked about, you still might be wondering whether or not the Ryder bag is right for you. I don't think it's right for everyone, but it's a good choice for some.
If you currently play with more than 10 clubs (or you plan to in the future), you'll need to have a full-sized bag. If you play with 10 or fewer clubs, you probably don't need one this big.
If you need a bag this big, you'll need to think about how much you want to spend. If I was looking to buy this bag for $230 bucks, I might be inclined to spend $50 more to get a bag that's a bit higher quality.
A lot of people (myself included) don't want to spend that much on a bag. With our discount, the price will drop to just below $200, and at the price point, I think the Ryder bag is a great value.
With all that said, the Ryder is the bag I'm currently using. I carry 10 clubs and play 1-3 rounds per week. It's been good enough for me over the past little bit and I think most people will enjoy it as well.
Note. Just because I like this bag doesn't mean it's the perfect one for you. Be sure to check out our best golf bags for the money list to see the different options that are suited for different golfers.
Use Code "OBG15" For 15% Off
Sunday Golf Ryder Bag
The Ryder bag is a good option for someone who wants a full-sized bag but doesn't want to spend a fortune.
Buy From Sunday Golf
We earn a commission if you click this link and make a purchase, at no additional cost to you.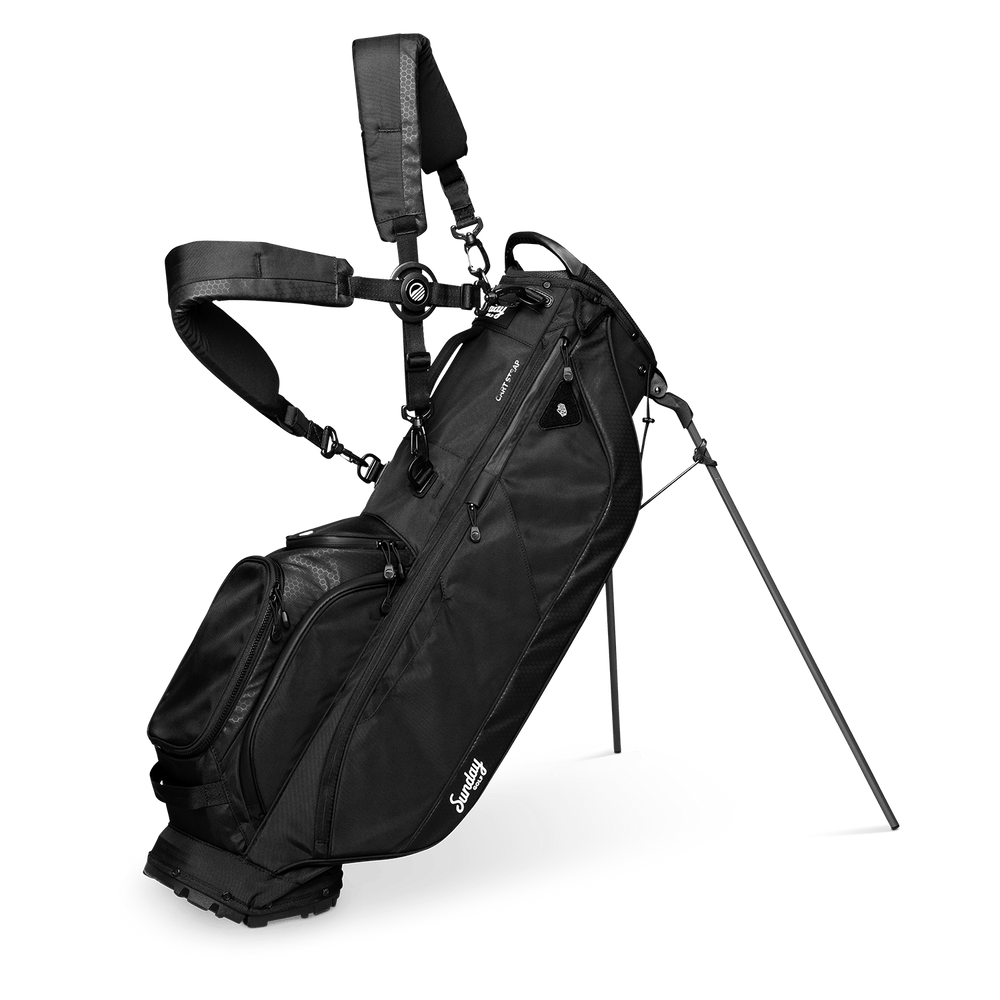 ---
You Might Also Like
OBG Deals: We've worked with a few brands to offer discounts to our readers. Be sure to check out our deals and promotions page to see our current discounts.
What's In The Bag: Looking to get some new golf gear? Click here to check out what's in my golf bag and see some of the gear we use and recommend.
Write For Us: Calling all hackers, whackers, and golf enthusiasts, Out Of Bounds Golf is looking for writers! Click here if you want to get paid to write for us.